カリキュラム・科目
京都大学大学院総合生存学館(GSAIS)は五年一貫の修士・博士プログラムであり、一つの専門(この研究会所属の場合、人文・哲学)を軸に、学際的な研究と授業(「八思」)、 並びに海外でのインターンシップ(「武者修行」)とプロジェクトベースド・リサーチ(PBR)を行うものです。
研究会の基礎をなす科目

[全額共通科目]

H139001 京都学派の伝統と可能性(仏教学に関する部分のみ) 担当教員:Marc-Henri Deroche

[総合生存学館]

2014000/M111001 心の哲学-東洋と西洋の間 担当教員:Marc-Henri Deroche
2017000/M112001 アジア文明を横断した仏教史 担当教員:Marc-Henri Deroche

[文学研究科]

1831007 チベット仏教瞑想論 担当教員:Marc-Henri Deroche

その他「八思」のおすすめ科目

[総合生存学館]

芸術

4022000 文化実習I(茶道)担当教員:倉斗宗覚、関根宗中
4023000 文化実習II(生け花)
4024000 文化実習III(書道)担当教員:中村史朗
など
ワークショップ一覧
今まで開催したイベント・講義
Online mini-workshop "Study, Reflection, and Cultivation (聞・思・修): The Threefold Wisdom Model in Mahāyāna Traditions and its Potentialities," 26th November, 2021.
Online mini-workshop "Mindfulness in Context: Perspectives from Tibetan and Japanese Traditions," presentations by students and by Sanae Kishimoto, MHS, MPH, Clinical and Public Health Psychologist. Discussant: Yuki Imoto, Keio University Assistant Professor. 2nd July 2021.
Online mini-workshop "Philosophy as a Bridge Between Buddhism and Science," A Conversation with Michel Bitbol, MD, PhD, Emeritus Director of Research at the French National Center for Scientific Research, Husserl Archives, Paris, 27th November 2020.
Online mini-workshop "Mindfulness East & West: Philosophical Significance, Scientific Research, and Social Applications," with the participation of Antoine Lutz, PhD, Tenured Researcher, INSERM (French Medical Research Institute), Lyon Neuroscience Research Center, and Mari Iizuka, PhD, Professor, Graduate School of Business, Doshisha University; Director, Doshisha Well-being Research Center, 3rd July, 2020.
"Guest Lecture on Buddhist Philosophy," by Khenpo Tsultrim Lodö, Vice-Rector of Larung Gar Buddhist Academy, China, Sichuan, 9th-10th December 2019. Cancelled due to travel restrictions.
Mini-Workshop, "Celebrating UNESCO's World Philosophy Day," 21st November, 2019.
Mini-Workshop "Mindful Attentiveness in East and West: Philosophical Foundations and Cross-Cultural Discussion," with the participation of Michael Chase, PhD, Researcher, French National Center for Scientific Research (Centre Jean Pépin), specialist of ancient philosophy (Greek, Latin, Arabic), 26 July 2019.
Guest lecture "SDG Target 4.7: Education for Sustainable Development and Global Citizenship," by Yoko Mochizuki, PhD, Head of Program, Rethinking Policy, UNESCO, Mahatma Gandhi Institute of Education for Peace and Sustainable Development (MGIEP), 3rd March 2019.
Guest lecture "Mindfulness and Self-Regulation: Neural and Psychological Perspectives" by Gaëlle Desbordes, PhD, Neuroscientist at the Massachusetts General Hospital and Instructor (research faculty) at Harvard Medical School, 12th April 2019.
Mini-workshop "Wisdom for the Good Life: Toward an Integration of Humanities & Clinical Sciences," 7th December 2018.
Guest lecture "Values and the Concept of Ikigai or Meaningful Work/Living," by David Malloy, PhD, Vice President (Research), University of Regina, Canada, 2nd November 2018.
Participation to the Program Planning Committee of the International Research Institute of the Mind and Life Institute, Myoshinji, Kyoto, on "Contemplative Practice in Context: Culture, History, and Science", 1-5 September 2018.
Guest Lecture "Integrating Sciences and Wisdom Traditions: The Mission of the Mind and Life Institute," by Susan Bauer-Wu, PhD, President of the Mind and Life Institute, 31st August 2018.
Mini-workshop on "The Philosophical Quest of the Good life" 「生きることと哲学」 with the participation of Masakatsu Fujita, specialist of Japanese philosophy and the Kyōto School, 9th July 2018.
Guest Lectures "Contemplation and the Sciences in Dialogue," "Buddhist Meditation, Cognitive Science, and the Emergence of New Ways of Knowing," by Michael Sheehy, PhD, Director of Programs at the Mind & Life Institute and faculty at the University of Virginia, 5-7 March 2018.
Mini-workshop "The Question of World Philosophy"「世界哲学の課題――東と西の架橋・越境」, with the participation of Masakatsu Fujita, specialist of Japanese philosophy and the Kyōto School, 28th June 2017
Guest Lecture "Meditation and Liberal Arts Education in America: The New Field of Contemplative Studies," by Harold D. Roth, PhD, Professor of religious studies and Director of the Contemplative Studies Initiative at Brown University, 4th April, 2017.
Guest Lecture "Mindfulness & Leadership: What Makes an Effective and Resilient Leader?" by Jeremy Hunter, PhD Associate Professor of Practice and Founding Director of the Executive Mind Leadership Institute at the Peter F. Drucker Graduate School of Management, Claremont Graduate University, Los Angeles, 10th January 2017.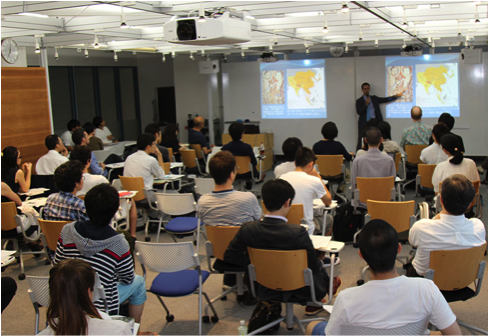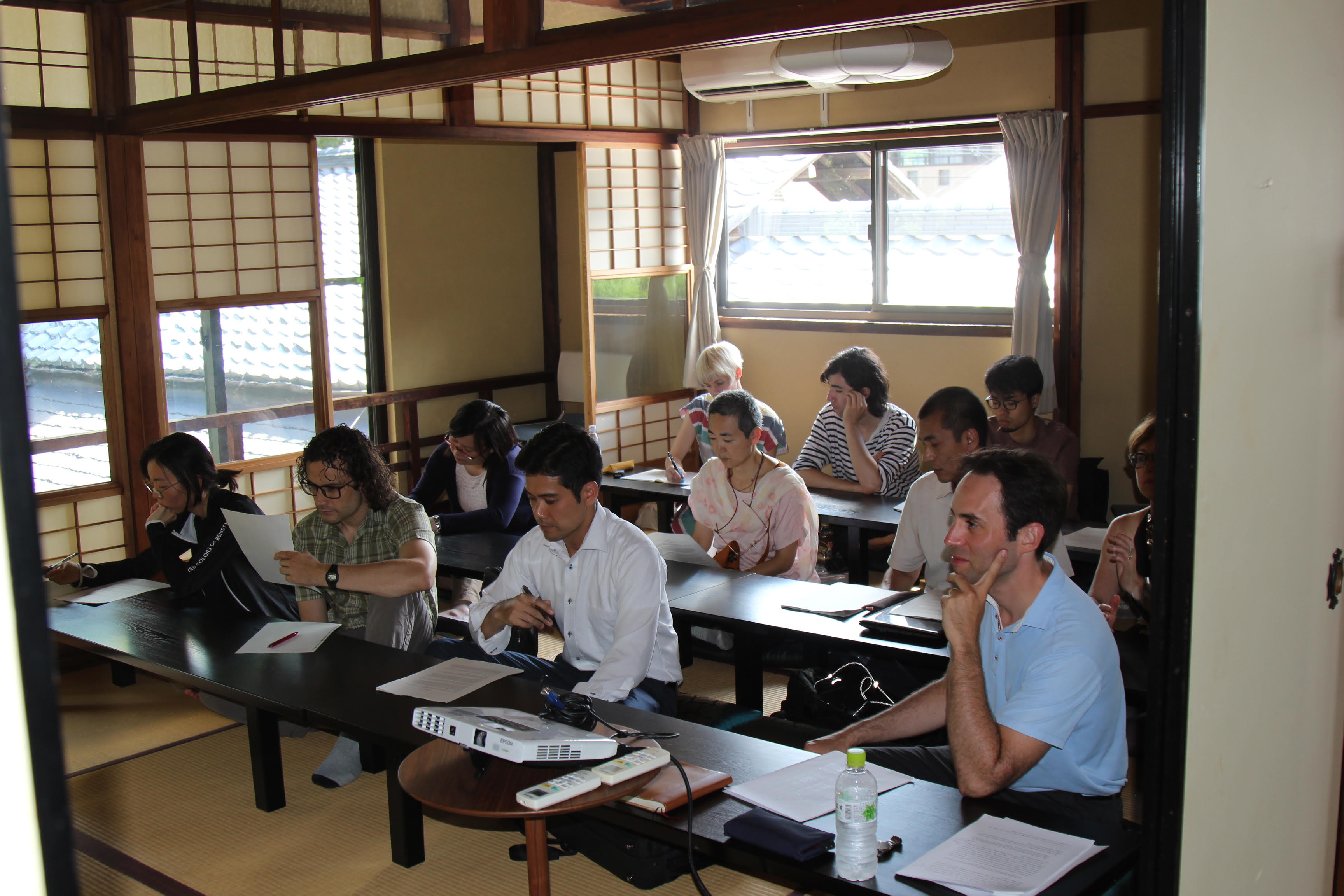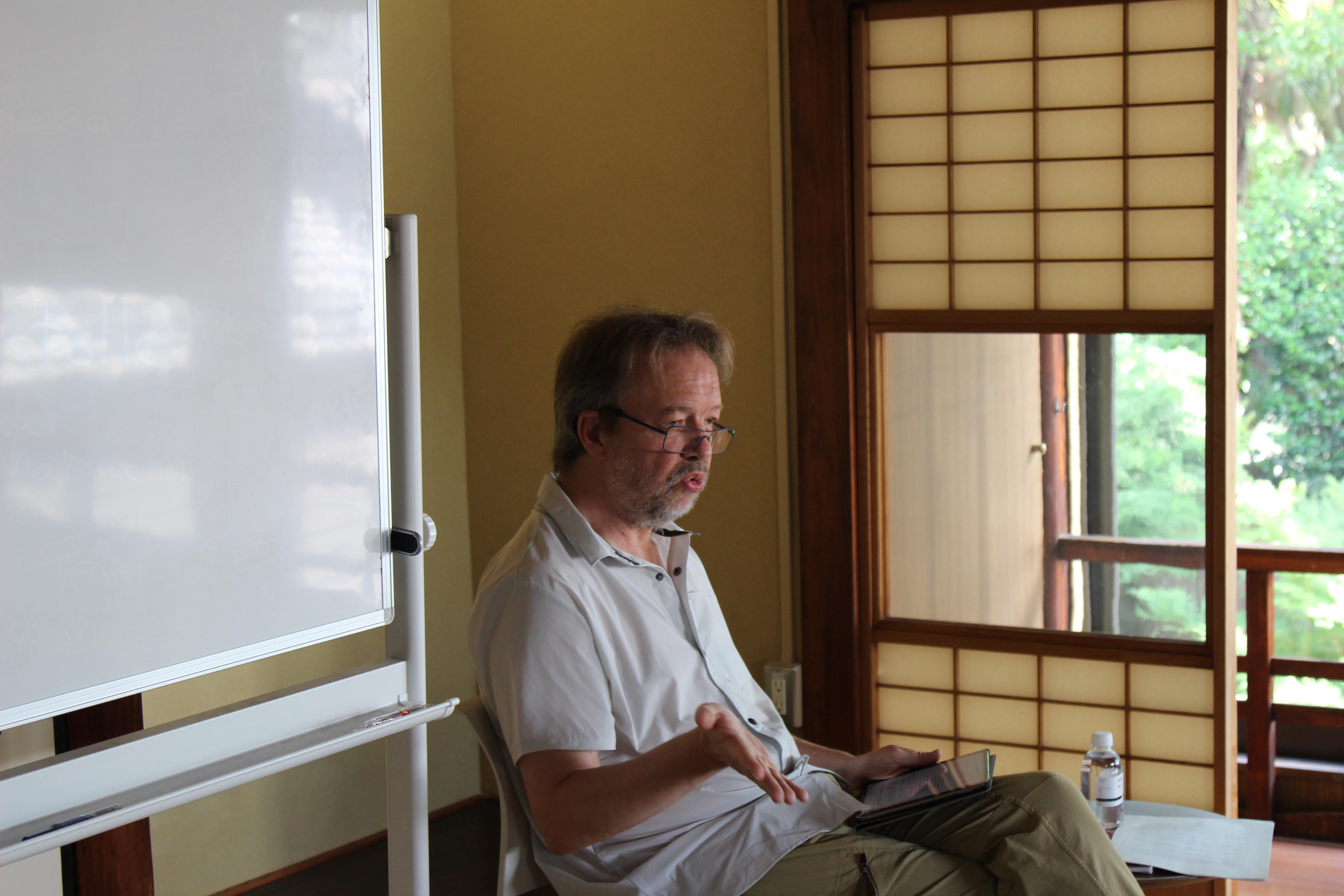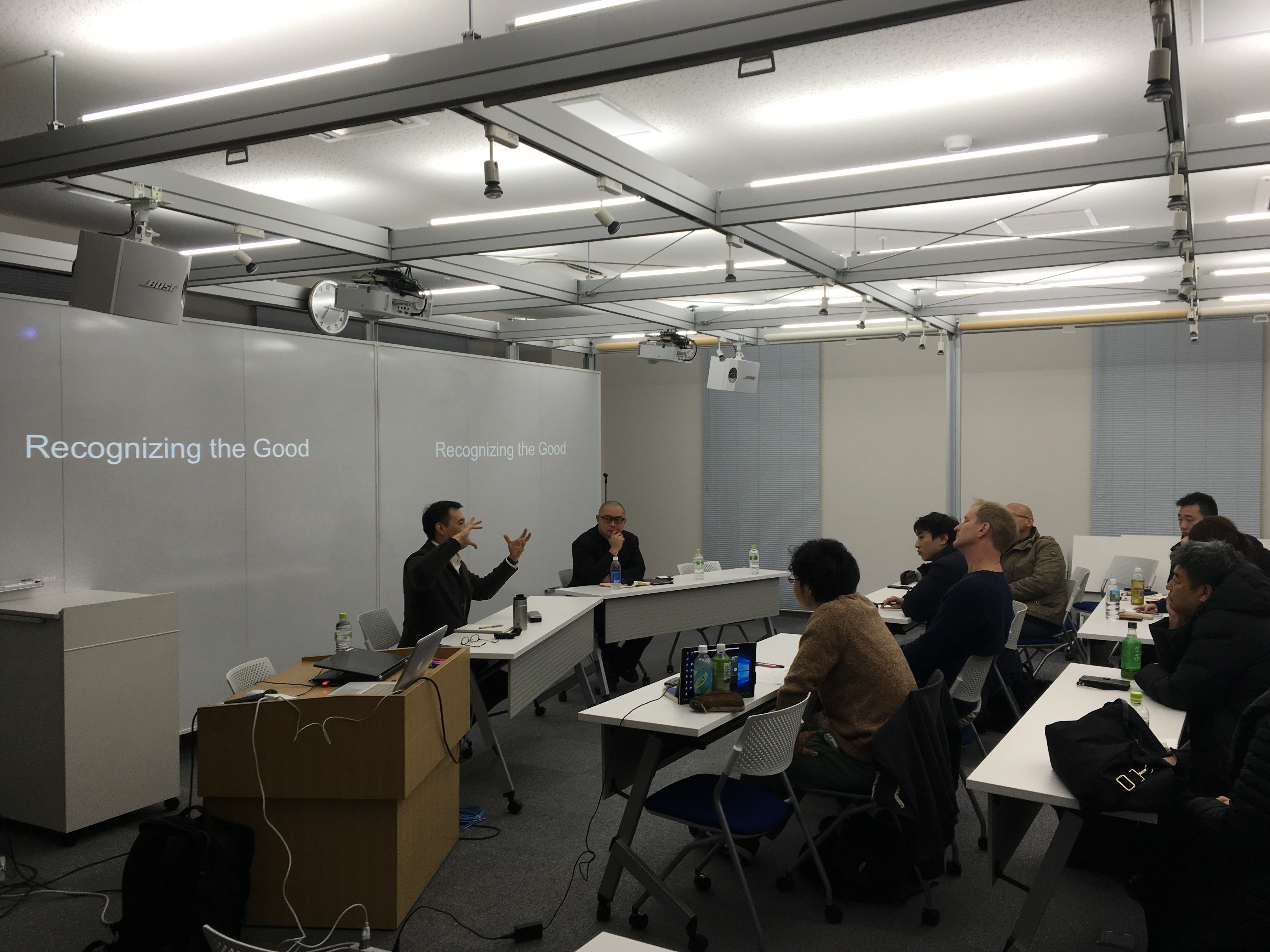 その他定期的な活動
この研究会は以下のスケジュールでミーティングや活動を行います。
週一回の授業
週一回のマインドフルネス演習
月一回の個人ミーティング
月一回の研究発表
年二回の京都における文化実習
年二回の国内外の専門家を交えたワークショップ
年に一回のリトリート
もし、オンラインのものを含めた活動に参加をしたい場合は、 ぜひご連絡ください。 ズームのリンクをお送りします。